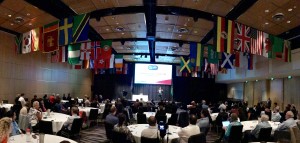 One of the great things about being in business is the ability to give something back to the community. So when the organising committee of the 15th World Congress on Environmental Health, asked if MethSolutions was prepared to be a sponsor, we were happy to provide our support.
The Congress was held in Auckland over the last 4 days. It is the pre-eminent biannual educative event of the International Federation of Environmental Health. The Federation has 53,000 members spread across 43 countries.
A core theme of the Congress, was the impact the Built Environment has on health. Miles followed Professor Michael Baker of Otago University Department of Public Health and Co-Director of the NZ Housing and Health Research Programme onto the stage. This is the lead research agency that is informing the development of the NZ residential warrant of fitness.
Miles provided an overview of the legacy of environmental challenges the manufacture and use of methamphetamine has left behind in New Zealand. He emphasised that the best public health outcome are achieved where short term political and economic expediency are set aside, and the communities of science, government and business are focused on ensuring any limits of exposure that are recommended do not come at the cost of people's health and well being.
While some groups in NZ whose constituency is people who choose to use drugs, a significant take away from the Congress, was that scientists and environmental health professionals from around the world recognise, that this is an area of environmental health practice where NZ leads the world.