One of the criticisms of the meth testing industry, has been the potential for two organisations to go into the same property, offer essentially the same service, but end up with completely different results.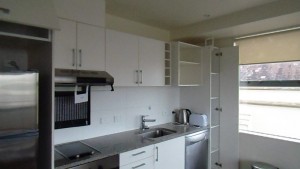 How does this happen?
In part, it is because the residues that are being targeted are invisible. Where for example, are the meth residues in this property?
Addressing these inconsistencies, was one of the key aims of NZS8510:2017.
What influences results of meth testing
As well as the challenges of finding an invisible contaminant, there are other things that can account for the difference. The most significant ones are:
The sampling technique of the technician involved
Inconsistencies in sampling procedures, and
Sample site selection
Of all of these issues, sample site selection has the greatest potential to impact on a result. The type of material from which a sample is collected and where in the room that material is found, are critical, when meth is present, to the results that are identified.
What does the standard say about sample site selection
Section 3.2.3.1 of NZS8510:2017 provides examples of what these surfaces are:
The intake points of forced-air heating or cooling systems
The intake points of exhaust fans
Stained materials or surfaces
Near fuse boxes and power points
Timber finished with stains, varnish or polyurethane, and
Areas of high airflow
This list does not include painted GIB walls and ceilings. Particularly if covered with wall paper. These are porous surfaces. They are more likely to soak up meth residues than leave them deposited on the surface.
The effect of different surface types is well illustrated in this photograph. The numbers alongside the image are in µg/100cm2.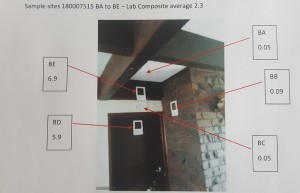 While all samples are from an area of comparatively high airflow, the difference in readings is nearly 100 fold.
If a report was produced from the set of samples taken from painted GIB, no action would be taken. Those taken in accordance with the recommendations of NZS8510:2017, identify the fact that there has been significant historic meth related behaviour. A policy of insurance would respond and an environmental contaminant would be removed.
The Screening Assessment Purpose
A Screening Assessment is principally designed to identify if meth is present. If lab-based testing is used, it also generates a number that identified the amount of meth present in the sample. The bigger the number, the greater the likelihood of significant historic meth related behaviour at a property. And the bigger the number, the greater the likelihood of adverse health outcomes for occupants.
Significance of the recommendations in the Standard.
Taking samples from the middle of GIB walls or ceiling, away from areas of high air flow, or down low above power-points, may increase the likelihood of delivering the result people want. I have yet to find somebody who wants to get a positive meth test.
However, it may also mean that significant historic meth contamination is missed. This can result in:
Exposure to problematic environmental contaminants that are known to have an impact on health and well-being,
Confusion if subsequent testing that does target high risk/high affinity surfaces identifies discrepancies, and
People buying houses they think have no meth issues, when in reality they have major ones.
Like it or not, all parties NEED to understand the worst case scenario. More often than not, there are no problems with meth. Sometimes meth is identified, but sampling methods covered by the standard, mean significant problems can be easily ruled out.
Conclusion
The recommendations around sample site selection in NZS8510:2017 are there for good reason. It is critical that when samples are taken, sample sites are used which are  MOST likely to retain meth residues, if meth is going to be present.
If you are taking samples for meth get yourself certified
We do not want to see people getting caught out by a lack of knowledge. If you are delivering meth testing services, you should get yourself certified an up to speed with best practice.
MethSolutions offers Unit Standard/NZQF 30892, 30893 and 30894 through an arrangement with the industry training organisation Careerforce.
We combine our experience and knowledge of the recommendations within the Standard, to deliver experience backed training that can be worked in to your schedule
You will be enrolled as a Careerforce trainee throughout your course of studies with MethSolutions. All assessments leading to unit standards will be undertaken by Careerforce and they will report any achieved credits and qualifications to NZQA directly.
Contact us to find out more about the training we can make available and the services we have to offer.