Testing anything is meaningless unless you have an agreed standard.
In the meth clean-up industry the Ministry of Health Guidelines for Remediation of Clandestine Meth Lab Sites have been in place since 2010. Territorial Authorities have used these as the basis for benchmarking acceptable levels of meth residues. This is regardless of whether the source of meth has been manufacture or use. Consequently, the industry that has evolved to help owners manage these risks without involving the Council and all that goes with it, have adopted the same reference points.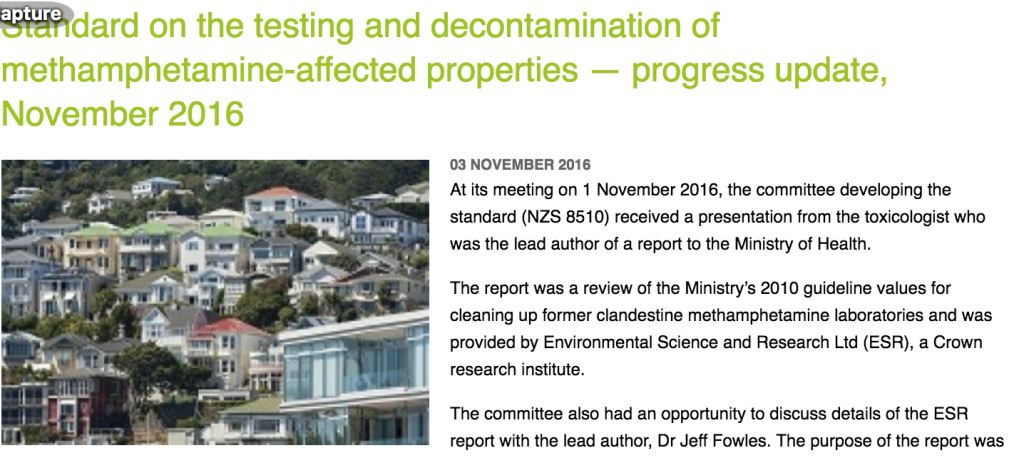 As part of a move to develop Standards around testing and decontamination, the Ministry of Health commissioned ESR to do a review of published literature. Late last month they released ESR's report into the public domain. The report has produced a number of questions that will need to be answered if an effective Standard is to be developed. The extent to which these October 2016 MoH recommendations are to be considered acceptable will be determined by the local Council for the area in which the property is located until the Standards are implemented.
Miles Stratford CEO, MethSolutions is a member of the Standards Committee.
"I believe this is recognition of the contribution we have made to the industry and the fact that we have the interests of the public at heart"
We'll keep you up to speed with the ongoing developments on the Standards as they come available
View the Standard for Testing and Remediation of Meth-Contaminated Properties